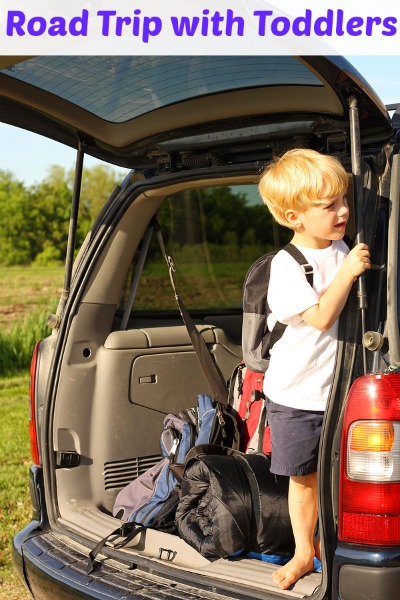 Here are some tips for surviving a road trip with toddlers:
We stopped every two hours (the furthest we made it was 2.5 hours but that was just a fluke!). We had to let the kids out for all our sanity! Even if it was just a bathroom break, everyone got out, stretched and walked to the RR.
We always stopped at parks,

truckstops

with grassy areas or rest stops with grassy areas.  We did have to make two stops a couple of times to find the "right" place but it was

SOOOO

worth it. Even my usual "no fuss" husband was willing to make the extra trek for a place the kids could run around. We even ate lunch at a campground one afternoon and took a walk, stopped for geocaching – simple stuff to distract the kids. At lunch, the kids ate, then played (we had soccer balls, squishy balls, a

Frisbee

and some cars for them to play with). We made each stop at least 45

mins

– usually an hour(even when we really just wanted to keep driving!).
We did not eat out even once! This is kind of a must for our family anyway given my child's special diet but it was so much easier to eat at a picnic area or on our blanket in the grass than it would have been to lug everyone inside for a not very healthy meal where they had to sit still the whole time. We packed lunches, snacks and drinks up each morning before leaving the hotel so all we needed at the stops was a smaller cooler (vs the giant one with everything in it!). This required us to have milk already in cups for the kids and they ONLY had milk at meal times – we had 1 gallon in the big cooler. We packed two cups for each of them (the other was for water on the road). We had small lunch size coolers for snacks in the car and a larger

soft side

cooler for lunches. Rather than buy ice we rounded up all the ice packs we could find from our freezer and from friends and family and it got us by for the day.
Hotels were as inexpensive as possible…with a dog. I actually learned a valuable lesson on this trip. We had reserved rooms at two Residence Inns and they were pretty pricey but we were too tired to keep driving so we stopped at a motel (Budget Host I believe) in western KS and got a DEAL! $60 for the room (including the dog). It wasn't the Residence Inn but it was clean and quiet. I asked the clerk why I didn't get them when I searched online and she said it was too expensive for them to book through the web so they just weren't listed with the hotel search sites. It pays to check ALL your resources before making reservations.
WATER, WATER, and more WATER! Some lovely reader mentioned that we would need more water than we could imagine. Boy am I glad she did so! I saved and filled 3 gallon milk jugs with water each morning. One was for the dogs, one for us if we got thirsty and one for washing up any major messes. Thankfully we never had to use jug #3 and the other two lasted all day!
Don't invest in any special "car toys". All of the things I brought along for the car to keep the kiddos entertained while I drove…nada…we talked, sang songs (ABC's like a million times!) and watched DVD's. That was the one very useful investment. Both kids watched Mickey Mouse Clubhouse, Backyardigans, Little Einsteins, a few Disney movies…
So – those are my tips. Nothing mind blowing but if you are traveling with kids and/or pets I hope my experience will help you! Some are frugal some are just helpful tips but I can honestly say that all of them together helped us save money and have as smooth a 21 hour drive as possible!
Keep tabs on all the hottest deals by subscribing to our FREE daily newsletter and follow us on Facebook! This post may contain affiliate links.