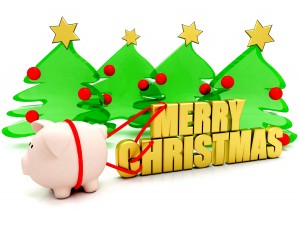 Welcome back to Becentsable's Holiday Boot Camp!
Have you ever considered using items you received for free as gifts?  If not, this is a great way to help stretch your holiday budget.  Keep in mind; it is the thought that counts.  I can assure you your friends and family would not want you to over-extend your budget.  The best part is often times you can turn freebies into fabulous gifts!  It just takes a little time and effort.
One way to get amazing freebies is to check out some of the daily deal sites.  Recently, I was able to earn free credit on both One Kings Lane and RueLaLa just for signing up.  I used my free credit to purchase gifts and it did not cost me a dime!  Many daily deal sites also offer credit for referring friends.  If you find a great deal, be sure to share it.  You might end up with more free credits!  For more information on daily deal sites, check out last week's post.
Photo deals are abundant right now!  I will be posting all sorts of hot photo deals.  You should take advantage of these offers to create personalized gifts your loved ones will cherish; such as a calendar, a photo book or any other photo gift.  Be sure to visit becentsable.net often to make certain you do not miss out on any of these deals.  It is a good idea to have your photos ready so you can grab the deal as soon as it is posted.  Many times these deals do not last long!
Think outside the box!  Is there a hot deal going combining sales and coupons?  Is this something you can turn into a gift?  The other day I was able to pick up several razors and shaving cream for free.  I am planning on using them for stocking stuffers or maybe even a nice gift basket for someone.  Also, think about donating these items to a local charity.  There are so many people in need this time of year that would love to receive a gift basket full of personal care items.
There are tons of freebies to be found at drugstores!  The gift basket ideas are plentiful.  Drugstores often run freebies for soap, hair products, makeup, etc.  For more information regarding shopping at drugstores, read my Drugstore 101 Guide.
There are lots of freebies available just by signing up.  With a little creativity, you can turn these items into great gifts.  Do you remember the free pack of gum from a few weeks ago?  This would make a great stocking stuffer!
Go on a scavenger hunt around your house!  Double check your stockpile for gift ideas.  Pull out some your kids' Halloween candy and save for their stockings.  They will never notice!  Look for unused baskets and fill with freebies for a great gift.  I am not a big fan of re-gifting.  However, sometimes it can be done tastefully. For example, if you received a bottle of perfume, but cannot use it due to allergies then it is perfectly acceptable to give it to someone who can enjoy it.  I would just be careful so the original gift giver does not see you re-gifting.
Think about all of the services you could offer up as a gift; including babysitting, snow removal, house cleaning, etc.  Then, make a certificate or coupon book with your ideas.  Kids would love receiving a coupon book full of fun activities with mom or dad.  You could include sledding, a bike ride, a day at park, etc.  The possibilities are endless!
Here are some great gift ideas for your freebies….
Fill a coffee mug full of free coffee samples for a teacher or gift exchange.
Fill a basket full of lotions, soaps and hair products.  This also works great for teachers or even friends.
Fill a basket full of shaving supplies for your dad or uncle.
Fill a basket full of makeup and nail polish.  This is a perfect gift for a teenage girl!
Give your spouse a coupon book good for dishes, laundry, back rubs, movie nights, etc.
Do you have some great gift ideas for freebies?  Be sure to send them my way, I would love to share ideas. You can leave a comment or email me!