Becentsable is discussing a series to help readers tackle the dreaded "B" word. BUDGETING!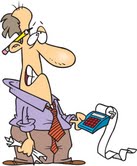 Another difficult area was our planned expenses that didn't occur monthly:
taxes
clothing
gifts
vacation
I found it challenging to figure out how I would fit these expenses in my budget. You don't want December to roll around and have to come up with a big amount of money to pay your taxes.
The easiest way for me to handle these expenses was to set money aside every month in our savings account. This way if I found a big sale on clothing, then I could stock up and not wreak havoc my budget. Setting aside money in our savings for these expenses took several months to "get a cushion" added to our account.
It doesn't matter what system you use, you just need to have a plan for these expenses.
Don't give up!  It may take a while to figure it out but I believe in you.  You can do it!
Thanks for tackling your budget with us and making the word "BUDGET" worth talking about! Join me next time as we talk about how to handle unexpected expenses!
Keep tabs on all the hottest deals by subscribing to our FREE daily newsletter and follow us on Facebook!