Becentsable is discussing a series to help readers tackle the dreaded "B" word. BUDGETING!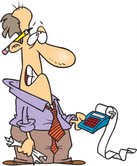 FRUSTRATED?!  I was too. When I first started budgeting, I was very frustrated because our budget would not balance.  I couldn't understand WHY my budget didn't balance.  I had all my categories, with all of my set monthly expenses.  It took a few months to figure out that I was making a big budgeting mistake.
The proverbial light bulb went off!  I was using the same budget every month.  BIG, HUGE mistake!
I learned every month was different and my budget needed to be adjusted every month.  Gain CONTROL here!
I had the same expenses every month but the amounts needed to be adjusted. Therefore, my categories stayed the same but adjustments were made to the amount I would budget every month.  DING, DING, DING!!!
For example, If we were having a birthday party that month, I needed to adjust the amount of money we would spend on "Entertainment" or if we were going to have a big family dinner, I might need to increase the "Household" portion of the budget.
The first thing I do when I sit down to do my budget is to look at the calendar and check to see:
What events or activities we have coming up?
Are we going to be driving more or less?
Do we have any family dinners planned?
Do we have gifts we need to buy?
If an area of my budget needed to increase, then another area would need to decrease. The budget process became much easier once I figured out this mystery.
Thanks for tackling your budget with us and making the word "BUDGET" worth talking about!
Keep tabs on all the hottest deals by subscribing to our FREE daily newsletter and follow us on Facebook!