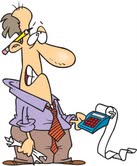 Becentsable is discussing a series to help readers tackle the dreaded "B" word. BUDGETING! 
Figuring out a budget that works takes time.  Remember it took us 6 months before we got this budgeting thing down!
When you first get started, remember to track your process and correct as you go each month.
Each month should get better and better!
The key is to figure out a system that works for YOU!
Don't be discouraged!
Don't assume the only solution is to cut out all the fun stuff. This is an opportunity to think of more creative ways to get the items your family needs. Rediscover the art of borrowing, bartering and reusing!
You can do this! We are here to help!
Keep tabs on all the hottest deals by subscribing to our FREE daily newsletter and follow us on Facebook!