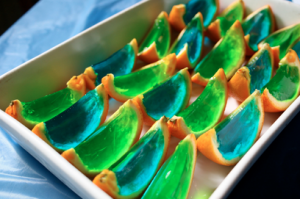 Jello boats are inexpensive to make and fun to eat. They are a big hit with the kids and adults!

Ingredients:
Oranges, cut in half and flesh scooped out
Jello, prepared according to package directions but not refrigerated
Tip: cut the oranges in half through the top where the stem is and around through the bottom of the orange. If you cut them the other way, the flesh is harder to scoop out and the jello leaks through the tiny hole at the bottom of the orange.

Directions:
Pour prepared liquid jello into each orange half and refrigerate. One package of jello fills about eight orange halves. We set the orange halves in muffin tins to keep them upright as the jello set.

When the jello is set, slice each orange half into half again. Trim any excess orange skin. Enjoy!
Keep tabs on all the hottest deals by subscribing to our FREE daily newsletterand follow us on Facebook! Looking for more coupons? Check out our Coupon Database or visit Coupons.com, Red Plum and Coupon Network! Picture Credit, Tasty Kitchen. This post may contain affiliate links.