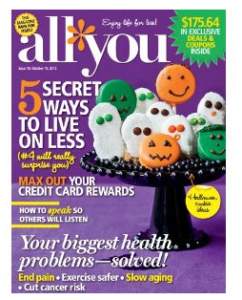 Here are the coupons you will find in the November 2012 issue of All You Magazine:
$0.75/1 Angel Soft Facial Tissue
$1 off Aunt Jemima and the December 2012 issue of ALL YOU Magazine
$5 in Butterball Coupons when you purchase a Butterball Fresh or Frozen Turkey or Ready to Roast Turkey Item
$1/1 Children's or Infant's Motrin
$0.75/1 Colgate Optic White Mouthwash
$1.50/2 Comet Creams or Sprays
$1/1 Comet Powder
$0.75/2 Crystal Light Sugar Free Candy
$0.50/1 DenTek Floss Picks ($1.99+ purchase)
$1/1 Disney or Marvel Vitamins
$0.50/2 Dole Canned Fruit
$1/1 Ester-C
$0.40/1 Fleishmann's Yeast Strip or Jar
$5/1 Flex-a-min Supplement
$1/1 King's Hawaiian Rolls
$2/1 Konsyl Senna Prompt
$1/2 Minute Ready to Serve Rice or Steamers Product
$1/1 Nature's Bounty
$0.50/1 New York Brand Garlic Bread
$1/1 Olivari Mediterranean Olive Oil
$3/1 Osteo Bi-Flex
$1/1 Pond's Luminous Clean
$3/1 Rug Doctor 48 oz.+ Carpet Cleaner
$5/1 Rug Doctor Machine Rental
$25/1 Rug Doctor Mighty ProX3
$3/1 Rug Doctor Oxy-Steam or Pet Formula
$2/1 Rug Doctor Urine Eliminator
$0.75/1 Scott Towels 6-ct.
$0.50/1 Sister Schubert's Homemade Rolls
$0.50/1 Softsoap Body Wash
$1 off Stayfree and the December 2012 issue of ALL YOU Magazine
$2/1 Truvia Natural Sweetener or Baking Blend
$1/1 Vaseline Total Moisture Lotions
Keep tabs on all the hottest deals by subscribing to our FREE daily newsletter and follow us on Facebook! Looking for more coupons? Check out our Coupon Database or visit Coupons.com, Red Plum and Coupon Network! Thanks, Keeping the Kingdom First. This post may contain affiliate links.