Have you ever made Homemade Air Freshener? I was surprised at how easy this was and it only took about three minutes to make!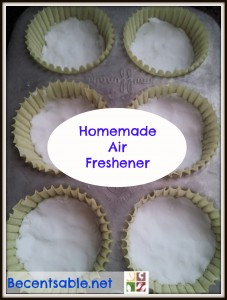 Homemade Air Freshener:
I found on Diapers, Dirt and Donuts a recipe for homemade deodorant disks for diaper pails and wanted to try this out to see if this would work as Homemade Air Freshener. You can use these just about anywhere. If you have time you could decorate a small mason jar to display these in!
Tip: When the baking soda disks become crumbly (after a few weeks) you can use them in the laundry room. Baking soda helps soften clothes, boost your detergent's power, and keep whites white.
What you will need:
water
1 cup of baking soda
2-3 drops of essential oils
a muffin pan
paper muffin cups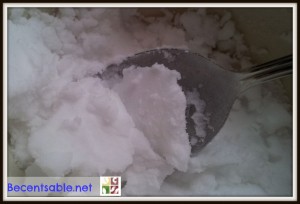 Directions (makes 6):
Add 2-3 drops of essential oil to baking soda
Mix water with the baking soda (slowly add water and mix well) until you have a thick paste
Fill muffin cups 1/2 way (press down)
Let dry 24 hours
Make sure to also check out:
Pin It and Follow Me!
Keep tabs on all the hottest deals by subscribing to our FREE daily newsletter and follow us on Facebook! This post may contain affiliate links.