Try these 5 easy Homemade Cleaners! We have recipes for Laundry Detergent, Dishwasher Powder, All-Purpose, Toilet cleaner and Microwave Cleaner.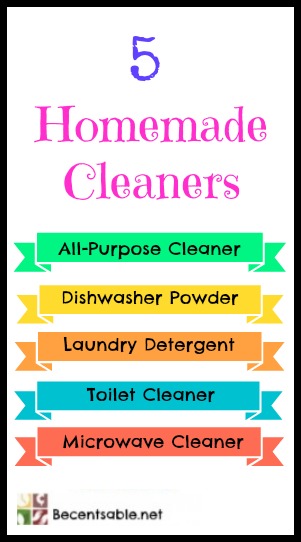 If you are not ready to use all green cleaning products all the time, I understand. It's taken me a while to make the switch, too, and I'm not quite all the way there yet. However, I want to challenge you to try a few. You might be surprised at how easy and effective it is.
5 Homemade Cleaners:
All-Purpose cleaner
Materials needed:
1 spray bottle
Vinegar
Water
Directions:
Mix 12 oz vinegar and 12 oz water.
Dishwasher Powder
Materials needed:
Borax (20 Mule Team brand can be purchased at WalMart)
Baking soda (purchased in bulk at a warehouse store)

Directions:
Use 1 T. Borax and 1 T. baking soda per load. Use a commercial rinse agent or vinegar to rinse.
Laundry Detergent
Materials needed:
1/3 bar of Soap (grated)
½ cup Borax
½ cup Washing Soda
Directions:
In a large pot, add 6 cups of water and grated soap and heat on medium until the soap is melted.
Stir in Borax and Washing Soda until everything is dissolved.
In a large bucket, add 4 cups of hot water and then add your soap mix.
Stir well and then add 1 gallon plus 6 cups of water.
Stir again and let sit overnight.
The detergent will be a watery gel that might look cloudy. Use ½ cup a load.
Recipe from The Family Homestead.
Toilet Cleaner
Materials Needed:
½ cup Baking Soda
½ cup Vinegar
Directions:
Pour Baking Soda and Vinegar into the toilet.
Let the mixture sit for at least thirty minutes and scrub.
Microwave Cleaner
This cleaner does not require any scrubbing. The secret is lemons! Just place half a lemon in a small bowl of water, microwave for 30 seconds (just enough time to boil the water and build up steam). Open the door and wipe with a wet towel or sponge.
Pin It and Follow Me!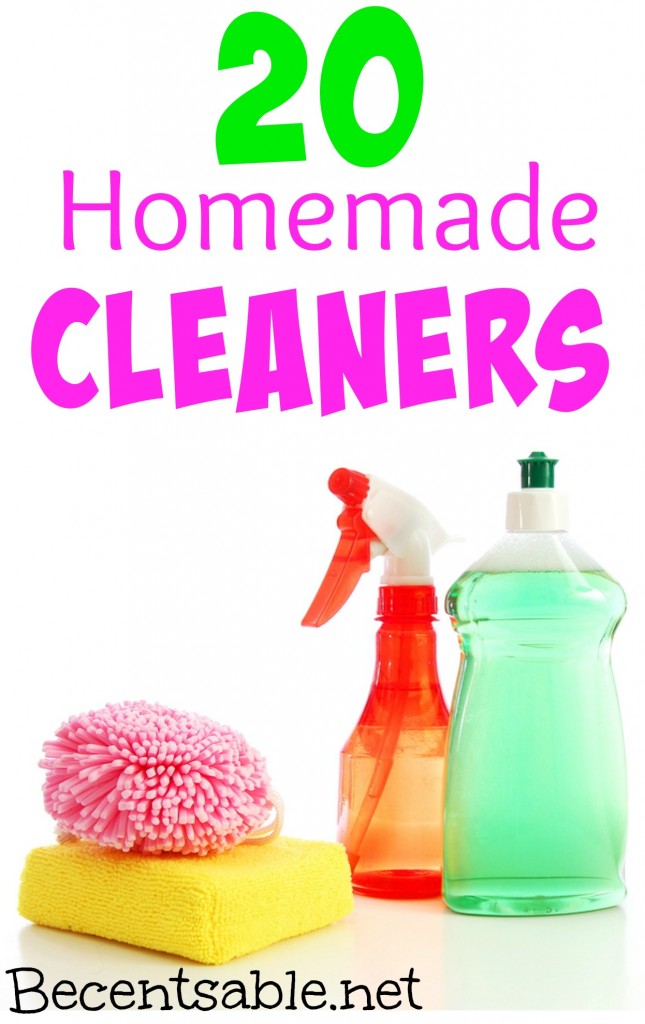 Plus, check out this round-up of 20 Homemade Cleaner Recipes! Read more here.
Follow me on Facebook and Pinterest and subscribe to my FREE daily newsletter!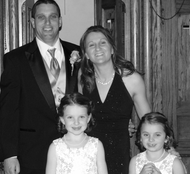 Chrissy is a stay-at-home mom with two girls from Missouri. Chrissy has helped thousands of subscribers save money without giving up "extras" like travel and entertainment. She shows how anyone can save thousands of dollars on cleaning supplies, toys, travel, groceries and more.