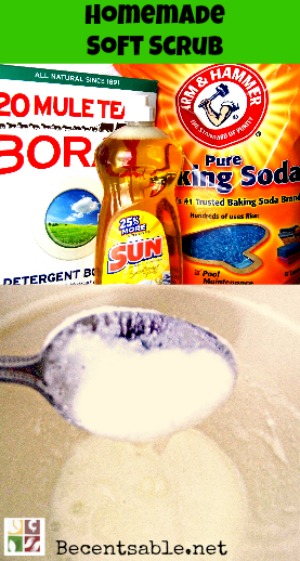 Materials needed:
Borax (20 Mule Team brand can be purchased at WalMart)
Baking soda (I purchased in bulk at a warehouse store)
Dish soap liquid
Homemade Soft Scrub Alternative:
To make Homemade Soft Scrub just combine 1 tablespoon Borax and 1 tablespoon baking soda with enough dish soap to make a frosting-like consistency. This scrub works very well to clean showers when used with a scouring pad. It also works well on sinks.
Cost Breakdown:
Borax cost me approximately 3.8 cents/ounce or less than 3 cents/tablespoon. Baking soda cost me 3.3 cents/ounce or less than 2 cents/tablespoon. The cost of dish soap will vary depending on what brand you purchase. I estimate that the amount of dish soap I use costs me pennies at most.
1 T. Borax ($0.03) + 1 T. Baking soda ($0.02) + less than 1 T. dish soap ($0.02) = $0.07
You could also mix up a larger batch ahead of time and store it until needed. Each batch makes enough for me to clean the shower, the tub, bathroom sinks and the kitchen sink. Not bad for a few pennies!
Please note: Borax is an eco-friendly ingredient in many homemade cleaning solutions, but it is still hazardous. Please keep away from your eyes and out of the reach of children and pets.
Pin It and Follow Me!