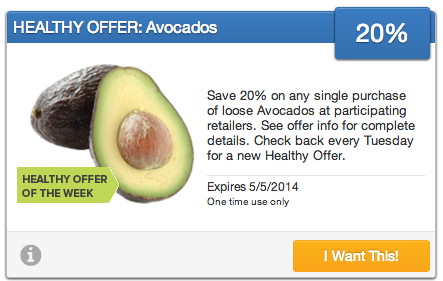 Produce Coupon:
We have a new produce coupon! Get a produce coupon offer for 20% off on any purchase of Avocados!
If you haven't signed up for SavingStar yet, sign up here first. SavingStar is the smart and simple way to save on your groceries and online shopping. Providing exclusive eCoupons redeemable at over 24,000 grocery and drug stores throughout the country, SavingStar's eCoupons are linked to your store loyalty cards and offer a more convenient and eco-friendly way to save on groceries than paper coupons. SavingStar automatically adds the value of each eCoupon redeemed into your SavingStar account.
Keep tabs on all the hottest deals by subscribing to our FREE daily newsletter and follow us on Facebook! This post may contain affiliate links.