I love these Homemade Salad Dressing Recipes! Making your own salad dressing always sounded like a chore to me until I found these simple recipes.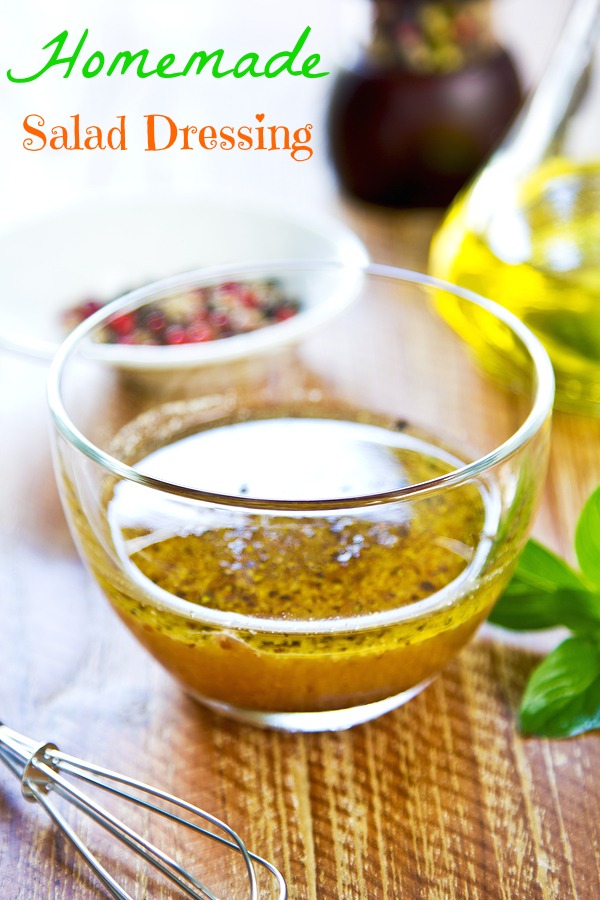 Homemade Salad Dressing Recipes:
Sweet & Sour Garlic Dressing:
1 C. olive oil
2/3 C. vinegar
1/2 C. honey
Minced garlic
Seasoned salt to taste
Raspberry Vinaigrette Dressing:
1/4 C. canola oil
2 T. vinegar
2 T. raspberry juice concentrate (from the frozen juice section of the store)
1 clove garlic, minced
1/4 t. salt
pepper to taste
Strawberry Vinaigrette Dressing:
1 cup sugar-free strawberry preserves
1/4 cup balsamic vinegar
1/4 cup Dijon mustard
1/2 teaspoon ground red pepper
1/2 cup olive oil
1/2 cup water
Creamy Garlic Salad Dressing:
2 tablespoons tamari sauce
1 tablespoon balsamic vinegar
1 tablespoon honey
3 cloves garlic, minced
1 cup sour cream
1 cup mayonnaise
2 tablespoons barbeque sauce
1 teaspoon Dijon mustard
2 tablespoons garlic powder
cracked black pepper to taste
These recipes are very easy and you can add or subtract ingredients to your liking. My kids don't like garlic, so I always skip this ingredient.
Tip: When you store this in the refrigerator the oil will solidify, so let it sit out for a few hours or pop it into the microwave.
I found these recipe on Centsible Shopper, Mr Food and All Recipes. Keep tabs on all the hottest deals by subscribing to our FREE daily newsletter and follow us on Facebook! This post may contain affiliate links.