Here are some Disney Dining reviews to help you pick out what Disney restaurants your family will love! Find out what restaurants made our best and worst list!
Disney Dining:
Best Princess Meal: Akershus Royal Banquet Hall (Epcot)
This princess meal gives you the biggest bang for your buck!  If you are on the Disney Dining Plan this restaurant takes only one credit compared to Cinderella's Royal Table that takes two credits. This character meal is held in a medieval castle.  When you arrive you will be escorted to have a picture with Belle. After your photo session you will enter into a Norwegian inspired banquet hall and meet Cinderella, Snow White, Belle, Sleeping Beauty and Ariel!

Tip:  Get a reservation at least one hour before the park opens and you can bypass the mad rush when the park opens and yet still be ready to tour the park by opening time.
Most Entertaining Restaurant: Biergarten (Epcot)
Think Oktoberfest! The atmosphere in this restaurant was incredible! When you enter the restaurant you walk into a quaint German town complete with lamp-posts and a full moon.  Musicians provide traditional Oktoberfest entertainment throughout dinner. Make sure everyone likes Germany food and be prepared to be entertained.
Tip: Plan for a long meal because you will want to take time to enjoy the entertainment.
Best Food:  Hollywood Brown Derby (Hollywood Studios)
The Hollywood Brown Derby is an authentic replica of the famous Brown Derby, a longstanding Hollywood landmark. The food was WONDERFUL! We all thought this was the best dinner we had on our trip!
Tip: The meal was very long and this restaurant was not as "kid friendly" as many of the other Disney restaurants.
Best Atmosphere:  San Angel Inn (Epcot)
San Angel Inn is modeled after a 17th-century hacienda at the base of Mayan ruins. When you walk into the pyramid you are transported into a nighttime Mexican marketplace. Take time to shop around and you will find sombreros, blankets and even pinatas. The outdoor feel really gives the restaurant a unique, intimate and romantic feel.  You can watch the boats drift by on the river as you have dinner.

Tip:  Book a reservation for the opening of lunch or dinner.  This will allow you to be the first seated and you can request a table next to river and watch the boats go by.
Best Character Meal: Tusker House (Animal Kingdom)
The atmosphere is unique with all food arranged like a marketplace. The meal is fun and entertaining with all the characters coming by to visit your table. Our family met Mickey Mouse, Goofy, Daisy and Donald Duck! We all LOVED the monkey juice and all the food was great. Our family got a kick out of the Mickey Mouse shaped waffles.
Tip: Not all meals are character meals, so make sure to check before you book.
No Reservation Needed: Restaurant Marrakesh (Epcot)
This hidden restaurant is easy to miss! This restaurant is not as busy because it is off the beaten path and most people are unfamiliar with Moroccan food. However, our group of six, ranging for kids to grandparents, all found food they enjoyed and we were surprised at how much our kids loved the belly dancers.
Tip: We still recommend a reservation, but this is your best bet if you forget.
Surprising Favorite: Garden Grill (Epcot)
Upon first look this doesn't appear to be a favorite. Once inside you will enjoy a family-style meal while rotating around the Living with the Land attraction! This is an all you can eat meal, so come hungry! The dinner is a character meal and you can meet Mickey and friends. This is the only character meal that we have eaten at that the characters came by our table more than once!
Tip: Make sure to visit the Living with the Land attraction first because some of the veggies (like the cucumbers, Swiss chard, eggplant and sweet potatoes) may have been grown in the Living with the Land greenhouses!
Quick and Family Friendly: Via Napoli Ristorante Pizzeria (Epcot)
Experience authentic Italian food from wood-burning ovens. This pizzeria had very fast service and a family friendly atmosphere. We highly recommend the pizza!
Tip:  To get the biggest bang for your buck, order a large pizza to share.
Best View: Rose & Crown Pub (Epcot)
When you walk into the Rose and Crown you will feel like you stepped into a British Pub. You can eat outside overlooking the lake or inside while listening to the piano player.
Tip: Ask for a table outside before the fireworks display to get an excellent seat for the show!
Every Little Girls Dream: Cinderella's Royal Table (Magic Kingdom)
This restaurant is like stepping into a fairytale! You enter into the main floor of Cinderella's Castle and get to meet Cinderella and get your picture taken. After meeting Cinderella you head up to the second floor of the castle and into a small dinning room that overlooks Fantasyland. Be prepared…this is an expensive meal! You will get pictures with Cinderella and a small gift of a wand or sword as part of your package. If you are on the Disney Dining Plan this restaurant will take two credits. If this pricey restaurant doesn't fit into your budget you might consider the Akershus Royal Banquet Hall. This princess meal only take one credit and you get a similar experience.
Tip: Book early! You need to make a reservation way in advanced if you want to eat at the castle! We made our reservation 180 days in advance and we had to pay in advance. Characters change for breakfast and dinner, so make sure to check what characters are coming.
Biggest Disappointment: 1900 Park Fare  (Grand Floridian Resort)
The food was good (not great) and they had a nice selection. There was not much of a theme at this restaurant like the other princess meals. We prefer the atmosphere at Cinderella's Royal Table and Akershus Royal Banquet Hall. We found the restaurant to be loud and very crowded.
Tip: If you are not staying at the Grand Floridian or a resort with a monorail, we suggest eating somewhere else because of the time you will waste traveling to the restaurant.
Over-Rated: Boma (Animal Kingdom Lodge) 
We read tons of reviews that raved about how fabulous the food was but we found the food to be good but not fabulous. We all agreed that the dinner was too pricey and we are not sure that we would come back and pay that much again. We hands down would recommend the breakfast buffet over the dinner buffet because of the price difference!
Tip:  The best part about this restaurant is checking out the Animal Kingdom Resort.
Overpriced: Le Cellier (Epcot)
This restaurant is a cozy cellar with steaks and seafood specialties. We thought the food was good but not worth the price and the atmosphere was not great for kids.   

Tip: If you are on the Disney Dining Plan this restaurant takes two credits!
Worst Food: Hollywood & Vine (Hollywood Studios)
The food was not as good as most of the other restaurants at Disney, but it was a buffet with lots of options and everyone left full. This restaurant seemed to lack that something special that most of the Disney restaurants have.
Tip: We would only recommend this restaurant if your child really wants to see one of these characters and you can't find them elsewhere.
Pin It and Follow Me!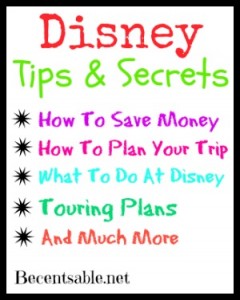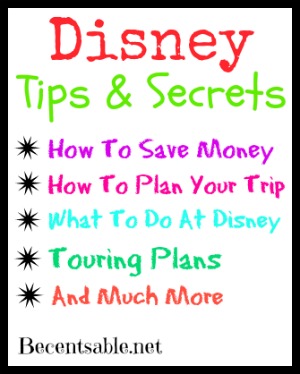 Disney Tips: Save Money And Time At Disney World – Are you dreaming of a Disney Vacation? Head over here to find some great articles with tons of Disney tips and secrets to help you plan your dream Disney vacation and stay on budget!
Follow me on Facebook and  Pinterest and subscribe to my FREE daily newsletter!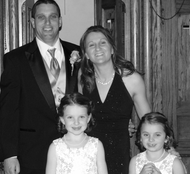 Chrissy is a stay-at-home mom with two girls from Missouri. Chrissy has helped thousands of subscribers save money without giving up "extras" like travel and entertainment. She shows how anyone can save thousands of dollars on cleaning supplies, toys, travel, groceries and more.