Here are a 101 Disney secrets and tips for planning your Disney trip, saving money on a Disney Resort, saving time at the theme parks, dining tips and more! Don't forget to check out our Disney Tips page for more money saving secrets!
Disney Secrets and Tips for Planning Your Trip:
Travel in the off-season! By traveling in the off-season we not only got fabulous deals but we didn't have to fight the big crowds.
Book your trip early!
Stay longer to save more money per day! By staying longer our park tickets and rental car were cheaper per day.
Get a hotel that includes breakfast. We found a hotel for $27 a night that included a FREE continental breakfast and FREE Internet. 
Do your research before you book. We purchased 2 Disney travel books and my favorite is The Unofficial Guide to Walt Disney World!
The DIS Board will have everything you are looking for (and more).
The Disney Parks Mom Panel is a forum where online "Moms" (and Dads) answer your questions and offer advice and tips about Disney.
Read online reviews before you book. Trip Advisor is a great place to read reviews and see some pictures.
Save money on Disney Resorts by renting points from someone in the Disney Vacation Club.We have rented points from someone in the Disney Vacation Club and stayed at the BoardWalk Villas for just $150 a night (regular price $580 a night – 75% off) and the Animal Kingdom Lodge for just $167 (regular price $355 a night – 53% off)! Read more here. This is one of the biggest Disney Secrets that can help save you a ton of money!
You can also rent Disney Vacation Club points from David's Vacation Club Rental for $14 a point. This is a bit more expensive but easier!
Rent a vacation home directly from the owner (try VRBO.com).
Buy discount gift cards – Keep your eye out for discount Disney gift cards. Grandma found us some discount gift cards at Sam's Club. For every $100 Disney gift card we purchased we got an extra $10 Disney gift card!
Watch for specials like 30% off when you stay at a Disney Resort or a Free Dining Plan.
Use Reward Cards! Use a credit card that offers rewards to pay for your trip. Only do this tip if you are able to pay off the card right away!! Many credit cards have reward programs and Disney even has their own card.
Click on the banner above to get a FREE Disney Planning DVD.
If you are working with a small budget, we suggest staying off site and looking for a hotel or condo as close as possible. We found a hotel room for just $27 a night and this included breakfast and Internet (only 2 miles from Disney).
If you are flying and on a tight budget we recommend a Disney Value Resort, standard rooms, because you can get your transportation included and you get the conveniences of staying on-site.
If you are trying to save money but need space you should rent a condo off-site. We rented a 3 bedroom condo, during peak Holiday season, for just $50 a night. We rented directly from the owner to save money on VRBO.com.

Disney Resort Tips and Secrets:
Get free shuttles to all the theme parks and Downtown Disney.
Get a free shuttle to and from the airport and they will deliver your bags to your resort.
Check in at the lobby instead of the airport (for select airlines) and then take a free shuttle to the airport.
Take advantage of extra magic hours at the theme parks.
Packages can be delivered straight to your Disney Resort.
Have the option of adding a meal plan to your stay.
If you check-in early in the morning they will hold your stuff for you until your room is ready (they will even refrigerate things for you!). I love using these Disney Secrets because we can arrive early and swim or go to parks and we don't have to worry about our stuff.
Disney will provide a Pack and Play for FREE!
You can visit any Disney Resort and eat at their restaurants, shop or just look around.
Make sure to visit Animal Kingdom Lodge and see all the cool animals for FREE.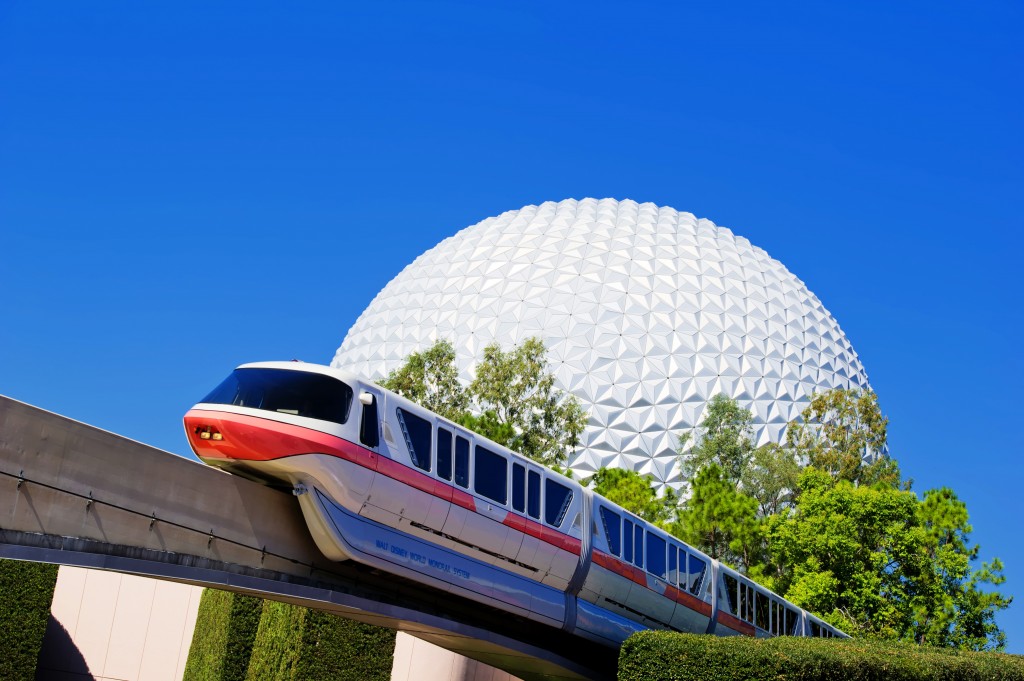 Disney Theme Park Secrets and Tips:
Learning how to create touring plans can save you a ton of time.
Make your touring plans BEFORE you go to the park.
Do the major attractions and rides in the morning.
Use your afternoons for minor attractions, playgrounds, shows, restaurants, shopping!
Understand how to maximize the FASTPASS system.
Know what the Extra Magic Hours are. If you are staying at a Disney Resort you might want to take advantage of these times, but if you are staying off site you might want to avoid the park that day.
Arrive at least 15 minutes BEFORE the park opens.
It takes about 20 to 30 minutes to get to the entrance of the Magic Kingdom after you park your car.
Disney Buses start running 2 hours before the park opens. You should leave your resort about an hour before the park opens so you have time to get to the park and get through security.
Try to do all your attractions in one area before moving on or you will spend a lot of time walking.
Use Rider Swap if you have a young child that can't go on the ride. One parent stays with the younger child and when the other parent comes out they can switch places!
Let the kids know that they might walk past something that was on their list, but you will come back later. This will help prevent meltdowns at the park.
Bring a stroller for all young children, our children used strollers until they were 6! It is a ton of walking and it will help keep them from melting down.
Be flexible! Your touring plans will not be perfect (this I can promise).
Avoid money traps at the theme parks! We try to spend as little money in the theme park as possible. Make sure to pack sunscreen, rain gear and anything else you think you might need.
Buy glow sticks at the Dollar Store to give to your kids at night to avoid buying the pricey glow up toys that Disney sells.
Buy some small Disney books at the Dollar Store or Target (in the dollar spot) to give to the kids while they wait in line.
Ask Cast Members where certain characters are located in the park. Sometimes they have the inside scoop!

Disney Dining Tips and Secrets:
Pack food to take to the park! Did you know you can do this? Most people don't believe this Disney Secrets but you can. You can even bring a small cooler and get a locker. We prefer to pack sandwiches and food that we can just carry in our backpack.
Make sure to pack water bottles. If you don't like water you can bring Crystal light packs to add to your water!
The Disney Studio rooms come with a mini kitchen (small refrigerator, microwave, sink, cabinets and coffeemaker). You can save some money by eating some simple meals in your room.
If we are driving to our destination, we pack as much food as we can get in our vehicle! I try to pack food from my stockpile (I stock up at the store when the item is on sale). Remember, food prices are always higher in vacation areas.
Get a Disney World Free Dining Plan at certain times of the year
Book your restaurant reservation early! You need to make a reservation way in advanced if you want to eat at the castle!  We made our reservation 180 days in advance and we had to pay in advance.
Characters change for breakfast and dinner, so make sure to check what characters are coming to your meal.
Check out Akershus Royal Banquet Hall

 

in Epcot! This princess meal gives you the biggest bang for your buck!  If you are on the Disney Dining Plan this restaurant takes only one credit compared to Cinderella's Royal Table that takes two credits.
When eating at a buffet, schedule a late breakfast or an early dinner and just snack for lunch to save money.
Get a restaurant reservation at least one hour before the park opens and you can bypass the mad rush when the park opens and yet still be ready to tour the park by opening time.
Book a reservation for the opening of lunch or dinner.  This will allow you to be the first seated and you can request the best table. This Disney Secrets has help us get the best view several times.
Not all meals are character meals, so make sure to check before you book.
If you forgot to make a restaurant reservation at Epcot try  the Restaurant Marrakesh.
If you eating at the Garden Grill in Epcot, make sure to visit the Living with the Land attraction first because some of the veggies (like the cucumbers, Swiss chard, eggplant and sweet potatoes) may have been grown in the Living with the Land greenhouses!
Are you are looking for a quick and family friendly restaurant? Try the Via Napoli Ristorante Pizzeria in Epcot.
At the Rose & Crown Pub be sure to ask for a table outside before the fireworks display to get an excellent seat for the show!
Packing and Safety Tips:

Check to see if you will have access to laundry facilities, if so, cut your packing down to 3-4 days worth of clothing for each person, take a container of detergent (check FAA regulations for proper packing if you are flying) or plan to buy one when you arrive!
For EACH PERSON, pack outfits for each day in 1 gallon Ziploc bags (underwear, socks, shorts, shirt) label with day of week or "Day 1″. When the clothes are dirty, put them back in the bag, squeeze out all the air and mark out the name/day so you know they are dirty! This saves space and time trying to pick out clothes!
Make sure to make a list of what you will need because you will pay top dollar for anything you forgot.
Always bring quarters, snacks and water in your carry-on or in an easy to grab bag that will go with you everywhere. This will save you money and your sanity if you get stuck somewhere – which you will (especially if you have screaming, tired, hungry kids)!
Get a small backpack for each child to keep their special souvenirs and treats in! DO NOT put their names on them (simply make sure they are different colors or styles that each child can easily identify, or add initials only).
Take a photo of your kids each day before you head out. You will have a record of exactly what they are wearing for the day on your camera in the event that anything happens to them.
Also take a picture of where you park! These parking lots are very big!
Take photos or make copies of park tickets, photo pass cards or any important information you don't want lost.
Put important information on an index card (your name, contact information), laminate and whole punch, put it on a string or strap and place it under their clothing.
Have a meeting point incase you get separated!
Know where the First Aid stations are located in all the parks.

Tips for Making Memories at Disney:
Take your own pictures and skip the pricey photos that Disney takes! You can also ask Cast Members to take pictures with your camera. We got some great pictures this way.
If you do want to buy pictures, look into the PhotoPass CD. This CD will contain all your photos and you can print them where ever you want! You will get a discount rate if you purchase this CD before you leave on your trip.
Bring your own autograph book or make one!
Bring a small stuffed animal of a Disney character to have autographed.
Give each child a notebook or journal, pen and glue stick to make a scrapbook.
Buy postcards and mail them home to your children with memories of what you did at each location!  It's great to read the postcards (they have a photo, a memory of what you did, a personal note and a date).
DO NOT make your children pose in front of every site you visit. Catch the candid moments of them and things going on around you. They will likely end up being some of your favorites!
Give each child a disposable camera and let them take their own photos.
Purchase souvenirs outside of the park to save money!
Purchase souvenirs before you go. We found clearance items at The Disney store, Dollar Tree and the dollar spot at Target and packed them with us.

Disney Cruise Line Secrets and Tips:
Drive to your port to save money. Disney has added several new port locations (New York, Texas and California).
Travel in the low season!  Avoid cruising around holidays and when the kids are out of school in the summer. We moved our cruise up 4 weeks and saved $1400!
Get the biggest bang for your buck by booking an inside cabin. We found that we were only in our room to change and sleep. You can also try to upgrade right before you board and you can get a discount if they have rooms available.
Sign up for their email – Get a heads up on discounts and specials through Disney emails.
Disney offers Kids Sail Free on certain cruises.
Book early to save money.  Typically Disney cruise prices raise as you get closer to your cruise date. The inside cabins also are limited and go very quick!
Look around before you book!  Get a quote from both Disney and a travel agent and see what they each have to offer. Often travel agents have the same price as Disney, but they offer an onboard credit. I heard that Disney may have inside cabins available even when the travel agent doesn't. We booked through Disney because they included park tickets and the travel agent didn't (both offered the same price).
Keep your eye out for discount Disney gift cards to use on your Disney Cruise
Use a credit card that offers rewards to pay for your trip.
Avoid money traps on the Disney Cruise. Do a bit of research and find out what things are included in your cruise and what cost extra. Disney has so much to do that we had no problems avoiding the extra fees.
BYOB!?!  Did you know you can bring your own alcoholic drinks on board? Drinks are a pretty penny and can add up. Make a stop at the store before you board to save big. Make sure to pack your drinks in your carry on bags when you check in.
Watch were you get your drinks! Drinks like soft drink, coffee and tea are free with your meals and on certain parts of the ship. Make sure you find out were the FREE drinks are on the first day!
Make your list and check it twice. Make sure to make a list of what you will need because you will pay top dollar for anything you forgot. I didn't pack enough sunscreen and had to pay $15 on the ship for more (what are you going to do your on a ship in the middle of the ocean)!
Get some FREE souvenirs. Did you know you can bring a pillow case from home and have the characters sign it for FREE? Just drop it off the first day at guest services and pick it up before you leave.
Bring your own souvenirs from home. You can also buy souvenirs before you go! I picked up some Disney pajamas for just $5 before we left and gave them to the girls on vacation. I saw the same pajamas for $20 at the Disney parks!! This is one of my favorite Disney secrets and your kids will love it also.
Eat before and after your excursions. Your meals are already paid for so take advantage of this. Make sure to eat a big meal before you go and head back in time to eat dinner. Try eating small inexpensive items while your off the ship. You will have so many big meals during your trip, so now is the time to grab a cheap sandwich.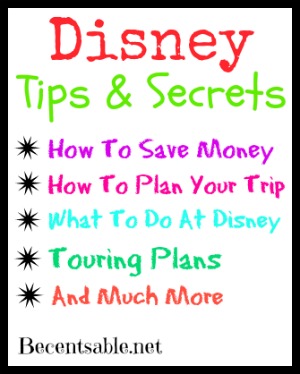 I hope you enjoyed these 101 Disney Secrets and Tips! Head over here to read more great articles to help you plan your dream Disney vacation and stay on budget! Find out all the Disney secrets we used to go to Disney World for 9 days on a family vacation for only $1438 (hotel, plane, rental car, and park tickets).
Follow me on Facebook and  Pinterest and subscribe to my FREE daily newsletter!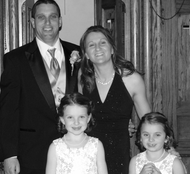 Chrissy is a stay-at-home mom with two girls from Missouri. Chrissy has helped thousands of subscribers save money without giving up "extras" like travel and entertainment. She shows how anyone can save thousands of dollars on cleaning supplies, toys, travel, groceries and more.