Learning how to create touring plans can save you a ton of time! Recently we went to Disney during the peak Christmas season (one of the busiest times of the year) and didn't wait in line for more than 15 minutes during our entire trip! Don't forget to check out our Disney Tips page for more money saving secrets!
Our Disney Touring Plans – (New Years Day from open until 1:30):
Buzz Lightyear's Space Ranger Spin (Mom and kids did this and Dad got 2 FASTPASS  tickets to Space Mountain and 2 to Winnie the Pooh)
Tomorrowland Speedway
Winnie the Pooh (not with our FASTPASS tickets)
Peter Pan's Flight
Mom and kids took a break and snacks (Dad got FASTPASS tickets to Under the Sea)
It's a Small World
Space Mountain/Winnie the Pooh (we split up and used our FASTPASS tickets)
The kids and Mom took a break (Dad got FASTPASS tickets to The Barnstormer)
Mickey's PhilharMagic Show
Under the Sea ~ Journey of the Little Mermaid (used FASTPASS tickets)
Barnstormer (when we arrive this attraction was shut down for technical problems)
Got FASTPASS tickets to Dumbo the Flying Elephant
Took a long break and played in play area.
Dumbo the Flying Elephant (used FASTPASS tickets)
Took the train to Frontier Land
Got FASTPASS tickets to Splash Mountain
Explored Tom Sawyer Island
Got FASTPAST tickets for Big Thunder Mountain Railroad
Splash Mountain (used FASTPASS tickets)
Lunch (we packed our lunch)
Swiss Family Treehouse
Big Thunder Mountain Railroad (used FASTPASS tickets)
*We didn't wait longer than 15 minutes in line and hit all of our must do attractions, including the three biggest attractions, at the Magic Kingdom by 1:30. Then we headed to the pool at the BoardWalk Resort for the afternoon to relax before going to Epcot for dinner.


How can you avoid the lines:
Understand how to maximize the FASTPASS system. Head over HERE to read more about how to use the FASTPASS system at Disney.
Make your touring plans BEFORE you go to the park:

Make a list of your must do attractions.
Put the attractions in the order that you will do them. This should not be based on which attractions you want to do the   most. Instead, start with the attractions that are most popular and work your way down to the attractions that do not build long lines quickly. Make sure to also do all your attractions in one area before moving on or you will spend a lot of time walking.
Plan out what FASTPASS tickets you will get and when.
Plan to do major attractions in the morning and use your afternoon for minor attractions, playgrounds, shows, restaurants and any attractions you have a FASTPASS for.

Share your touring plans with everyone in the party. Let the kids know that they might walk past something that was on their list, but you will come back later. This will help prevent meltdowns at the park.
Arrive at least 15 minutes BEFORE the park opens. If you are driving, make sure to figure in travel time from your car to the gate. It takes about 20 to 30 minutes to get to the entrance of the Magic Kingdom after you park your car.
Be flexible! Your touring plans will not be perfect (this I can promise). We had FASTPASS tickets to Barnstormer and it closed for technical problems right as we walked up to the ride.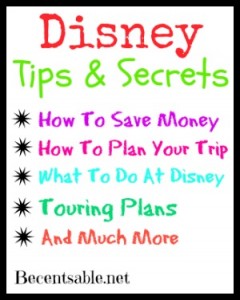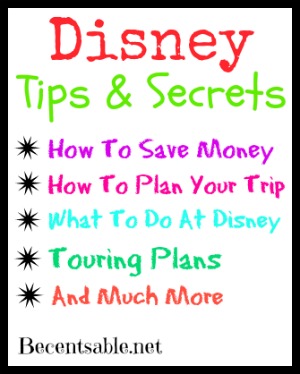 Disney Tips: Save Money And Time At Disney World – Are you dreaming of a Disney Vacation? Head over here to find some great articles with tons of Disney tips and secrets to help you plan your dream Disney vacation and stay on budget!
Follow me on Facebook and  Pinterest and subscribe to my FREE daily newsletter!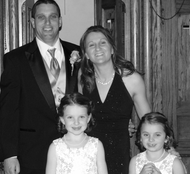 Chrissy is a stay-at-home mom with two girls from Missouri. Chrissy has helped thousands of subscribers save money without giving up "extras" like travel and entertainment. She shows how anyone can save thousands of dollars on cleaning supplies, toys, travel, groceries and more.