We recently went to Disney World for 9 days on a family vacation for only $1438 (hotel, plane, rental car, and park tickets). That is just $359 per person for 9 days! I have outlined below some Disney World Secrets and Tips that we used to have a wonderful vacation on a budget! Don't forget to check out our Disney Tips page for more money saving secrets!
Pin It and Follow Me!
Disney World Secrets: Tips To Save Money
We did lots of research – 

We purchased 2 Disney travel books. My favorite is 

The Unofficial Guide to Walt Disney World

! We 

also checked out some Disney forums to learn all the tips and tricks to having a fun and cheap vacation at Disney. 
Traveled in the off-season – By traveling in the off-season we not only got fabulous deals but we didn't have to fight the big crowds. We traveled at the beginning of December (one of the slowest times of the year at Disney). We also found out that this is one of the cheapest times of year to fly. We found tickets for just $100 round-trip (direct and with no crazy times).
Booked early – We booked our trip 9 months before we went to Disney. We have found that it is best to book early because the really good deals go fast!
We stayed for 9 days – By staying longer our park tickets and rental car were cheaper per day. A ticket at the gate would cost $79 per day but since we got a 7 day pass we only paid $34 per day. We also booked our tickets online to save money. Note-We only had to buy three tickets because of the age of our children.
We packed food and drinks to take to the park –  We only ate out a few times to save money. We packed food everyday to take with us. Most people don't know that you can take food into Disney World! We also carried a water bottle so we didn't have to pay $3 for bottled water.
Our hotel included breakfast – We found a hotel for $27 a night that included a FREE continental breakfast and FREE Internet. We made sure to have a nice big meal every morning.
We took umbrella strollers with us – Can you believe that it cost $31 a day to rent a double stroller? We made sure to bring our strollers from home.
We purchased souvenirs outside of the park – We also picked up some great deals at the Disney Outlet Store before we went to give as souvenirs for the girls.

Pin It and Follow Me!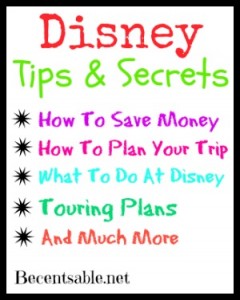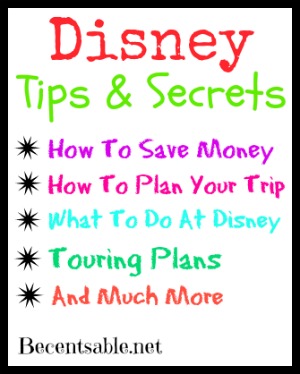 Disney Tips: Save Money And Time At Disney World – Are you dreaming of a Disney Vacation? Head over here to find some great articles with tons of Disney tips and secrets to help you plan your dream Disney vacation and stay on budget!
Follow me on Facebook and  Pinterest and subscribe to my FREE daily newsletter!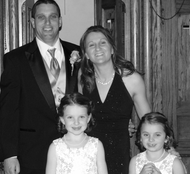 Chrissy is a stay-at-home mom with two girls from Missouri. Chrissy has helped thousands of subscribers save money without giving up "extras" like travel and entertainment. She shows how anyone can save thousands of dollars on cleaning supplies, toys, travel, groceries and more.